Fisticuffs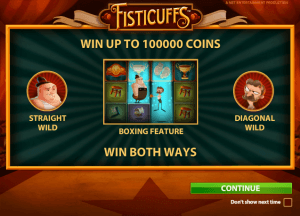 Het winnen van prijzen is bij alle casino's het hoofddoel van spelers en dus ook als je op een slot gaat gokken. Wil jij ook spelen op slots waar de prijzen hoog op kunnen lopen? Dan is het zeker de moeite waard om te gaan spelen op de Fisticuffs slot van Netent. Als je op deze slot van Netent online gaat spelen voor het winnen van prijzen stap je namelijk virtueel genomen in de ring om je prijzen bijeen te boksen. Wat je hiervoor moet doen? De rollen van het spel met echt geld rond laten gaan en zien of jij inderdaad één van de winsten binnen weet te halen. Bij het spelen van de Fisticuffs slot zal het thema je al snel duidelijk worden dankzij de achtergrond, de verschillende symbolen en de geluiden die toegevoegd zijn. Bovendien kunnen we je meegeven dat je bij het spelen van de Fisticuffs slot altijd op een eerlijke manier tot een prijs kunt komen. Iedere inzet die je plaatst laat de rollen rondgaan op basis van een Random Number Generator. Deze zorgt er binnen de casinosoftware voor dat uitslagen willekeurig gegenereerd worden en dus tot stand komen zonder invloeden van buitenaf. Via deze weg is het zeer goed mogelijk dat je niet zomaar één winnende combinatie weet te vormen, maar dat er meerdere lijnen tegelijk compleet worden gemaakt. Kortom aan de kansen op winst zal het tijdens het spel niet moeten liggen!
Fisticuffs spelregels Netent
Spelregels worden bij slot gebruikt om een leidraad te geven voor het winnen van prijzen. Om binnen de spelregels Fisticuffs succesvol te kunnen spelen is het dan ook aan te raden om eerst eens onze uitleg ervan te lezen. Dit overigens niet alleen voor deze Fisticuffs slot, maar ook als je bijvoorbeeld op een slot als Ghost Pirates of Joker Pro voor de prijzen zou willen gaan spelen. Bij het spelen van Fisticuffs speel je met 5 rollen, wat eigenlijk ook bij veel andere online slots wel het geval is. Je bepaald je inzetten met de knoppen die onder de rollen terug te vinden zijn en kunt dan de rollen laten draaien met de grote ronde knop. Om een winst te kunnen vormen zal je op de rollen zoveel mogelijk symbolen moeten zien te vinden van een gelijke soort. Positief is dat hierbij gespeeld wordt met winstmogelijkheden vanaf 2 kanten. Op de 10 winlijnen van de Fisticuffs slot kun je namelijk zowel van rechts naar links als andersom een winst uitgekeerd krijgen. Feitelijk heb je hierdoor dubbele kansen om een prijs te behalen. Welke prijzen dit eventueel zijn? Open daarvoor de prijzentabel zoals op alle Netent slots mogelijk is. Hiermee krijg je een direct overzicht van de winsten die bij een bepaalde inzet voor een winnende combinatie uit zullen worden gekeerd.
Meerdere winstkansen aanwezig
Als je gaat gokken op slotmachines is het altijd zo dat er gebruik gemaakt wordt van extra winfuncties. Dit gaat vaak om joker symbolen, waarvan er bij de Fisticuffs slot ook een aantal gevonden kunnen worden. Dankzij het joker symbool kun je als gokker een winnende combinatie sneller compleet krijgen. Hiermee kunnen immers de andere symbolen worden vervangen. Anderzijds geldt dat jokers ook achter een combinatie van winnende symbolen terecht kunnen komen. Als dit het geval is zal deze een winst langer maken en dus een hoger prijs uitbetalen. Verder geld voor het spel dat er ook gebokst kan worden, waardoor thematische prijzen sneller behaald kunnen worden. Een uitleg daarover zullen we onderstaand in het kort verder gaan geven.
Als je de rechte joker symbolen van Fisticuffs wilt vinden zal je deze alleen op rol 3 aantreffen. Wordt hiernaast een diagonale joker gedraaid op dezelfde rij? Dan zal er een flinke klap uitgedeeld worden aan de symbolen. Hierdoor komen deze uiteindelijk op rol 1 of 5 terecht en zullen je kansen op een winst gelijk veel hoger zijn. Bovendien krijg je hierna ook gelijk een gratis spins en kun je daarmee ook nog eens een extra winst behalen. Verder moet je weten dat je bij de Fisticuffs slot, net als bij het spelen van de Netent slots mobiel, ook de diagonale jokers als standaard kunt draaien. Komt hiernaast een rechte joker te staan? Dan zullen er ook weer een aantal flinke klappen vallen, waarbij aangrenzende symbolen juist ook in jokers veranderen. Hiermee worden je kansen op een winst gelijk hoger, omdat je met meerdere jokers de winlijnen compleet kunt krijgen!
Gratis spelen of voor geld gokken
Aan het einde van onze uitleg over de spelregels rest ons nog één ding. Een uitleg over het gokken met geld en het gratis spelen van de Fisticuffs slot. Om met geld te kunnen gokken bij een online casino zal je geregistreerd moeten zijn voor een account. Daarop kun je inloggen om vervolgens met eigen geld of met casinobonussen voor de prijzen te gaan spelen. Als je met geld gaat gokken is het altijd de bedoeling dat je jezelf houdt aan de inzetlimieten zoals deze gehanteerd worden met de knoppen van de Fisticuffs slot. Dit is niet alleen hier, maar ook als je bijvoorbeeld gaat gokken op de Football Champions Cup slot van Netent. De inzetlimieten zijn in dit geval een minimale inzet van €0,20 en een maximale inzet van €200 per inzet. Verder geldt dat je als speler ook kunt rekenen op de mogelijkheid om gratis te spelen. Dit doe je zonder account of saldo direct door het spel met een virtueel saldo van €5000 op je computer of mobiel te openen. Hierdoor kun je de spelregels van de Fisticuffs slot eerst oefenen of voor je plezier spelen. Later voor geld gokken is immers altijd nog een optie.