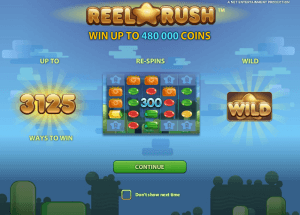 Een gokje wagen bij een van de Netent casino's is altijd de moeite waard. Waarom zou je het niet eens proberen? De slot Reel Rush is een slot met fruitsymbolen als basis. De indeling van de slot is anders, dit zal je direct opvallen als je het spel opent. Bekijk de achtergrond eens, denk je daarbij ook aan het vroegere Super Mario toevallig? Of een andere slot die van tv bekend is, Jack Hammer. Allemaal de moeite waard om te spelen. Spelen op slots is een erg leuke bezigheid. Je kunt er iedere dag gebruik van maken, waar en wanneer je maar wil. Ook mobiel spelen is mogelijk en daar ga je zeker je voordeel mee doen met de slot Reel Rush. Altijd leuk om eens een andere slot te spelen. Sowieso heeft Netent altijd weer veel tijd en aandacht aan de nieuwe slots, maar iedere keer is het weer net dat beetje meer. Misschien behoort deze slot binnenkort wel tot jouw favorieten, er is maar een manier om daar achter te komen. Gratis of voor geld spelen, jij gaat ontdekken wat jouw kansen zijn als je nu voor een online Netent casino kiest.
Reel Rush spelregels Netent
De unieke indeling maakt de slot Reel Rush erg leuk om te spelen. Er kan gespeeld worden met vijf rollen, ze zijn ingedeeld met 1, 3, 5, 3 en 1 symbolen. Er zijn verschillende spelfuncties toegevoegd en daarbij kan er met een totaal gespeeld worden van 25 symbolen. Er zijn per rol 5 symbolen actief. Als je een prijs wil winnen dan speel je bij Reel Rush niet met winlijnen. Je hebt namelijk verschillende winmanieren. Hoeveel winmanieren er zijn hangt af van het aantal symbolen wat op de rollen actief is. Dit kunnen maximaal 3125 manieren zijn. De prijzen worden aan je uitgekeerd wanneer je een combinatie hebt van soortgelijke symbolen. Deze moeten liggen op aaneengesloten rollen lopend van links naar rechts. Welke prijzen je kunt winnen, kun je terugzien in de prijzentabel. Hierdoor heb je een goed beeld van de mogelijke winst manieren en de prijzen die je kunt winnen.
Meerdere winstkansen aanwezig
Winnen doe je bij de slot Reel Rush met reguliere symboolcombinaties, maar er zijn nog meer winstkansen. Je hebt ook een joker symbool, deze kan andere symbolen op de rollen vervangen. Deze joker kun je tegenkomen op de tweede tot en met de vijfde rol. Er kunnen mooie uitbetalingen gerealiseerd worden wanneer je door een joker een winnende combinatie behaald. Bij de rollen van de slot Reel Rush heb je meerdere symbolen die je kunt activeren door winnende combinaties te maken, net als bij andere online slots spelen, zoals Evolution. Als de eerste winst is behaald, dan krijg je twee symbolen extra op de eerste rol en dan krijg je ook een re-spin. Haal je dan nog een keer een winst, dan krijg je ook op de vijfde rol twee extra symbolen en dan heb je 3, 3, 5, 3, 3 symbolen op de rollen en dat zorgt voor 405 winmanieren. Als je een winst behaald met een re-spin dan kan het aantal symbolen weer uit worden gebreid tot maximaal 25 symbolen en dat is weer goed voor 3125 winmanieren. Hele mooie hoge prijzen die dus gewonnen kunnen worden bij het spel Reel Rush.
Gratis spelen of voor geld gokken
Een mooie Netent slot die nu gespeeld kan worden is Reel Rush. Speel je gratis of voor geld? Als je gratis speelt, krijg je van het online casino gratis speeltegoed, een bedrag van €5000. Ook kan dat bij andere Netent slots, zo ook bij de klassieke slots zoals Lucky 8 Line. Dit bedrag kan onbeperkt in worden gezet en daardoor leer je welke symbolen er bij de slot Reel Rush aanwezig zijn. Je komt achter de spelregels en als het goed bevalt, speel dan de slot voor geld. Het enige wat je dan moet doen is een online casino account aanmaken, een van de stortingsopties kiezen en geld inzetten. De minimale inzet bij Reel Rush is €0,50 en er kan maximaal gespeeld worden met €100. Zorg dat je plezier gaat maken tijdens het spel, dat is het belangrijkste. Maar ook voor geld spelen kan erg spannend zijn, dan voel je pas echt hoe leuk het is. Hoe hoger jouw inzet, hoe hoger de uitbetaling is bij winst. Wil je graag weten waar je een gokje kunt wagen met de slot Reel Rush? Lees dan eens de casinoreviews door, dit geeft je een goed beeld van wat een casino je te bieden heeft. Je ziet ook welke andere spellen er worden aangeboden en wat daarvan de voordelen zijn. Ook daarbij kun je met geld spelen en wie weet wat jij daar gaat winnen. Neem de tijd en ontdekt het zelf. Met een casinobonus kun je bijvoorbeeld extra geld op je account krijgen. De eerste storting die je gaat doen wordt altijd goed beloond. Speel daarom ook mee, waag vandaag nog een gokje met de slot Reel Rush en wie weet hoeveel jij hiermee gaat verdienen. Blijf onthouden dat plezier maken bij casino's van groot belang is, maar winnen is altijd mooi meegenomen.