Cops 'n Robbers Millionaires Row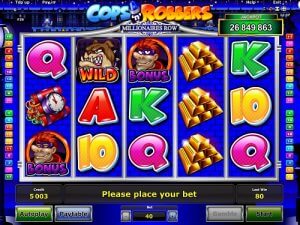 Wanneer je bij een online casino voor de prijzen gaat spelen krijg je te maken met allerlei soorten thema's. Bij de slot Cops N Robbers Millionaires Row gaat het om de politie en boef die regelmatig in beeld verschijnen. Leuk om te weten is dat deze behoort tot de Novomatic jackpots en dat er bovendien ook nog andere versies van dit spel zijn. Dit de reguliere Cops N Robbers slot en de slot Cops N Robbers Vegas Vacation. Als je op dit spel gaat spelen kom je terecht in een dure wijk, waar alle miljonairs samen wonen. De boef is natuurlijk aanwezig om daar zoveel mogelijk geld weg te gaan halen en de politie komt virtueel gezien achter hem aan. Binnen deze spannende speelomgeving heb jij de mogelijkheid om de rollen te laten draaien, wat je bij de Cops N Robbers Millionaires Row slot flinke prijzen op zal kunnen leveren. Om je een beeld te geven wat de mogelijkheden zijn om op deze Cops N Robbers Millionaires Row slot te winnen hebben we deze review gemaakt. Weet bovendien dat als je gaat spelen dat er eerlijke winstkansen gelden. Uitslagen komen namelijk altijd tot stand met een Random Number Generator, waardoor niemand jouw kansen op winst kan beïnvloeden.
Cops N Robbers Millionaires Row spelregels Novomatic
Om voor de winsten mee te kunnen spelen op slots moet je vanzelfsprekend wel rekening houden met de regels die ingesteld zijn. Novomatic heeft de basis van de Cops N Robbers Millionaires Row slot makkelijk gehouden en ervoor gekozen om van meerdere extra functies gebruik te maken. Iets wat je ook op de jackpot slot Golden Sevens terug kunt zien. Als je op de 5 rollen van de Cops N Robbers Millionaires Row slot een winst wilt kunnen behalen zal je een combinatie moeten zien te vormen van zoveel mogelijk soortgelijke symbolen. Die doe je van links naar rechts, waarvoor je een vast aantal van 20 winlijnen tot je beschikking hebt. Winnen kan bij deze slotmachine al vanaf 2 symbolen in een combinatie, die uiteraard altijd op rol 1 moet starten. Daar er verschillende prijzen gewonnen kunnen worden bij Cops N Robbers Millionaires Row is het zeker aan te raden om vooraf in de prijzentabel te kijken. Daar vind je namelijk voor je inzetten altijd gelijk een overzicht van mogelijke winsten terug.
Meerdere winstkansen aanwezig
Zoals gezegd vind je bij het spelen van de Cops N Robbers Millionaires Row slot altijd meerdere kansen op winst terug. Dit is dan ook direct wat het slots spelen online leuker weet te maken. De bulldog die je kunt draaien wordt bij het spelen van Cops N Robbers Millionaires Row gebruikt als een joker symbool. Hiermee kun je alle andere symbolen vervangen, wat ervoor zorgt dat je sneller op een winst uit gaan komen. Jokers kunnen immers tussenliggend gebruikt worden, maar ook aanvullend om winsten langer te maken. Daarnaast geldt dat je met deze symbolen zelf ook prijzen binnen zal kunnen halen.
Naast het joker symbool vind je bij Cops N Robbers Millionaires Row nog veel meer andere extraatjes terug. Met de rewind functie kun je namelijk de rollen gedraaid zien worden om alsnog een winst te behalen. De Fast Forward functie doet hetzelfde, maar daarbij worden de rollen naar beneden getrokken. Als je de bonus jokers ontvangt zal je meerdere extra joker symbolen op de rollen geplaatst krijgen door de dief, die er zo voor zorgt dat je tegelijkertijd een paar winsten kunt behalen. Lukt het je bij Cops N Robbers Millionaires Row om een totaal van 3 bonussymbolen te draaien? Dan kom je terecht op een bordspel. Je kunt daar door de dobbelstenen te laten draaien zoveel mogelijk free spins verzamelen. Hier kun je bovendien ook de weergegeven jackpot winnen als je 5x op een hoek met het sleutelsymbool terecht komt. Voor het spelen van de free spins kunnen als extra verschillende joker functies gewonnen worden met het Wild Bonus symbool op het bord. Kom je uiteindelijk op een groen vakje terecht? Dan ben je klaar met verzamelen en kunnen de free spins met bonusfuncties gespeeld gaan worden bij Cops N Robbers Millionaires Row. Kortom voldoende mogelijkheden om gratis voor de prijzen mee te kunnen gaan draaien.
Gratis spelen of voor geld gokken
Nu we alles uit hebben gelegd over de regels en bonusfuncties is het tijd om dieper in te gaan op de manieren van spelen. Je kunt namelijk gratis Cops N Robbers Millionaires Row spelen of ervoor kiezen om gelijk met geld van start te gaan. Wil je gratis spelen op slots als deze? Dan kan dit zonder dat je in moet loggen en dus gelijk anoniem met een virtueel saldo. Buitenom het feit dat je zo geen risico hebt op een verlies kun je ook de spelregels eerst oefenen voordat je het er wel met geld op gaat wagen. Spelers die wel op Cops N Robbers Millionaires Row voor geld willen gokken? Die moeten natuurlijk eerst een account aan hebben gemaakt bij één van de geteste Novomatic casino's. Hierop kun je inloggen en met verschillende stortingsopties geld toevoegen om inzetten van te plaatsen. Het plaatsen van een inzet is dankzij het vaste aantal van 20 winlijnen een fluitje van een cent bij deze speelautomaat. Je hoeft namelijk alleen maar aan te geven welk aantal munten er gebruikt hoeft te worden, waarna je de rollen zowel handmatig als automatisch zal kunnen laten draaien.