Epic Adventure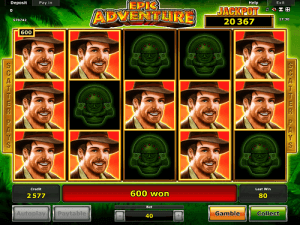 Er zijn bij het online casino altijd verschillende slots beschikbaar die te maken hebben met avonturen. Zo kennen we allemaal binnen het Novomatic aanbod de slots van Book of Ra Classic en Book of Ra Deluxe, maar er is nog veel meer. Als je een gokje gaat wagen kun je binnen het online casino assortiment namelijk ook op de Epic Adventure slot gokken. Een vergelijkbare slot qua thema, maar wel met een uniekere uitvoering gezien het feit dat er gebruik gemaakt wordt van minder symbolen. Als je op de rollen van de Epic Adventure slot prijzen probeert te gaan winnen zal je wel zien dat zowel de achtergrond als de aanwezige symbolen het thema goed duidelijk weten te maken. Daarbij zijn er bovendien ook allerlei bijpassende geluiden aanwezig, waardoor de complete spelbeleving direct op je computer geboden wordt. Voor de gokkers die nog niet eerder gespeeld hebben op de Epic Adventure slot is het prettig om te weten dat de bediening uiterst eenvoudig gehouden is. Je hoeft slechts in te stellen met welk aantal munten je wilt spelen en daarna kun je de rollen rond laten gaan. Anderzijds is het prettig om te weten dat er bij deze speelautomaat ook een Random Number Generator actief is. Die zorgt er op zijn beurt weer voor dat uitslagen willekeurig tot stand komen, waardoor eerlijke kansen op winst gegarandeerd worden bij ieder casino.
Epic Adventure spelregels Novomatic
Wil jij ook geld winnen met het spelen van een slotmachine? Weet dan wel dat je bij het spelen op slots altijd goed moet weten op wat voor manier de prijzen binnen kunnen worden gehaald. Als je namelijk de spelregels niet weet is het slechts draaien en maar zien waar het schip strand. De spelregels van de Epic Adventure slot zijn gelukkig niet heel moeilijk te volgen. Als je een gokje gaat wagen krijg je te maken met 5 rollen en een totaal van 15 symbolen op je scherm. Opvallend is dat er geen winlijnen aanwezig zijn, maar dat je mee dient te draaien voor Scatter winsten. Als je het hele scherm vult met de groene beelden zal je hiervoor een prijs ontvangen. Anderzijds is er een man als avonturier op de rollen aanwezig als symbool. Draai je er hier minimaal 5 van op de rollen? Dan wordt er ook een prijs aan je saldo toegekend. De winsten die je behaald worden daarbij bepaald aan de hand van dat aantal symbolen en de inzetten die je speelt. Bovendien kun je bij de Epic Adventure slot ook een jackpot in de wacht slepen. Meer daarover zullen we je hieronder uit gaan leggen.
Meerdere winstkansen aanwezig
Wanneer je op de Epic Adventure slot gaat gokken heb je verschillende extra functies. Eén daarvan is de progressieve jackpot, die we vanzelfsprekend ook kennen van de Age of Privateers gokkast. Het prettige van deze progressieve jackpot is vooral dat het nooit een vast bedrag is. Elke inzet die gespeeld wordt zorgt ervoor dat de hoogte van de jackpot stijgt en dat je dus flinke winsten zal kunnen behalen. Hoe de jackpotprijs van Epic Adventure gewonnen kan worden? Dat is heel simpel. Als jij op alle 15 symboolposities de man ziet verschijnen zal de jackpot aan je tegoed toe worden gekend. Daarna wordt deze weer gevuld met een standaard bedrag om opnieuw verder op te kunnen lopen.
Zodra je op de rollen van deze gokkast een prijs weet te behalen zal je als gokker een extra optie krijgen. Je kunt de prijzen direct innen richting je tegoed, maar ook een extra gokje wagen. Bij bijna alle Novomatic jackpot slots doe je dit op basis van een kaartspel, maar niet bij Epic Adventure. Daarbij heb je namelijk een piramidespel beschikbaar, waarbij je moet gokken wanneer het lampje brandt of niet. Zolang je stijgt in de piramide zal je prijs verdubbeld worden en dus steeds hoger oplopen. Het risico op een verlies wordt daarbij vanzelfsprekend ook steeds groter. Bepaal dus voor jezelf wanneer je tevreden bent en neem tussentijds je winst. Eén foute gok namelijk en je tot dan verzamelde prijs gaat in zijn geheel verloren.
Gratis spelen of voor geld gokken
Heb jij nog niet eerder gespeeld bij een online casino, maar wil je weleens een keer voor de winst kunnen gaan? Weet dan dat ook gratis spelen op de Epic Adventure slot een mogelijkheid is. Alle Novomatic casino's die wij getest hebben bieden deze optie zonder dat je in hoeft te loggen. Het enige wat je hoeft te doen is een spel kiezen in het spelaanbod en deze te laden. Doe je dit bijvoorbeeld met de Epic Adventure slot? Dan kun je gelijk rekenen op een virtueel saldo om anoniem mee te oefenen en waarmee je geen risico kent om geld te verliezen. Wil je echter wel met geld gokken om winsten in de wacht te kunnen gaan slepen bij een online casino? Weet dan dat je wel een account nodig hebt. Hierin zal je voor voldoende saldo moeten zorgen met één van de vele stortingsopties die aan worden geboden. Heb je geld toegevoegd? Dan kun je jouw inzetten bepalen met de plus en min knoppen van Epic Adventure. Hiermee bepaal je zelf een lage of hoge inzet, waarmee je zowel handmatig als automatisch voor de winst zal kunnen spelen.