Frogs Fairy Tale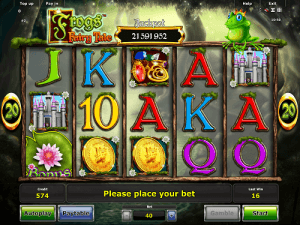 We kennen allemaal het sprookje wel van de prins die veranderd werd in een kikker en de prinses die hem ging zoeken. Je kunt binnen dit thema online verschillende slots spelen, waaronder deze Frogs Fairy Tale, maar ook Frog Princess. Het sprookje van het thema wordt naar onze mening goed op deze Frogs Fairy Tale slot weergegeven qua achtergrond en qua symbolen die gedraaid kunnen worden. Positief is bovendien ook dat je als gokker niet alleen maar voor reguliere prijzen mee kunt spelen, maar dat de Frogs Fairy Tale slot valt onder de Novomatic jackpot slots. Welke jackpotprijs er gewonnen kan worden is door zijn inrichting uniek, maar wel altijd eenvoudig binnen het spel af te lezen. Bovendien maakt iedereen evenveel kans op het winnen van die jackpot, omdat alle uitslagen bij Frogs Fairy Tale tot stand komen op basis van een Random Number Generator. Dit houdt in dat iedere uitslag willekeurig bepaald wordt en dat de Novomatic casino's zelf geen invloeden hierop uit kunnen oefenen. Anderzijds geven we je ook graag mee dat je bij het spelen van deze slot eenvoudig een inzet kunt plaatsen. Heb je nog geen ervaring met dit spel of helemaal niet met online gokken? Schroom dan zeker niet om jouw kansen op winst hierbij te gaan wagen, want ze zijn er zeker!
Frogs Fairy Tale spelregels Novomatic
De spelregels die bij online slots toe worden gepast zijn altijd vrij duidelijk. Gelukkig maar, want ondanks het feit dat deze automatisch uit worden gevoerd wil je natuurlijk wel weten hoe een prijs tot stand kan komen. Dit maakt het spelen niet alleen leuker, maar ook makkelijker. Als je op de Frogs Fairy Tale slot voor de prijzen gaat gokken zal je als speler zoveel mogelijk soortgelijke symbolen moeten gaan vinden. Deze moeten in een combinatie komen te staan van links naar rechts en één van de 20 winlijnen volgen. Dit aantal lijnen is op hun beurt beschikbaar op een totaal van 5 rollen, waarbij je per rol evenredig 3 symbolen terug kunt vinden. Met 15 symbolen kun je daarbij niet alleen maar losse winsten behalen, maar natuurlijk ook meerdere lijnen tegelijk completeren. Winsten worden dan gewoon bij elkaar opgeteld uitgekeerd. Als je wilt weten welke prijzen er op Frogs Fairy Tale gewonnen kunnen worden moet je hiervoor de prijzentabel openen. Iets wat ook geldt bij Book of Ra Classic. In deze tabel staat aangegeven welke combinaties een winst op kunnen leveren en welke prijzen je bij de inzet die gespeeld wordt uitgekeerd kunt krijgen.
Meerdere winstkansen aanwezig
Spelers die op een slot gokken hebben altijd extra winstkansen voorhanden. Dit geldt ook als je gaat spelen op slots als Frogs Fairy Tale en bijvoorbeeld Golden Ark. Tijdens het spelen van Frogs Fairy Tale krijg je om te beginnen te maken met het kikker symbool. Deze kan prijzen uitkeren op een winlijn vanaf 2 symbolen, maar mag ook gebruikt worden als een joker. Je kunt met de joker functie de andere symbolen vervangen, met uitzondering van de beschikbare bonussymbolen. Dit houdt in dat je winsten sneller kunt completeren en je kansen op winst daardoor veel hoger uit zullen komen. Jokers mogen daarvoor niet specifiek alleen tussen soortgelijke symbolen verschijnen, maar kunnen je ook aan het einde van een combinatie van dienst zijn.
Dat je de bonussymbolen van deze Frogs Fairy Tale slot niet met de jokers kunt vervangen is zeer logisch. Als je immers 3 van deze symbolen draait kom je terecht in het bonusspel. Daarbij moet je uit het lelie pad blaadjes kiezen en deze omdraaien om een drietal te verzamelen. Voor iedere drietal zal je een bonusprijs ontvangen. Anderzijds geldt dat je door het vinden van 5 gouden potten hier de progressieve jackpot kunt winnen. De hoogte hiervan kun je bij Frogs Fairy Tale boven de rollen aflezen, maar deze loopt continu op en kan dus flink stijgen. Er is ook nog een willekeurige kikker bonus. Terwijl de rollen aan het draaien zijn zal de kikker boven de rollen vliegen gaan eten. Hiermee wordt de bonusvermenigvuldiger die gegeven wordt voor je prijzen direct verhoogd op Frogs Fairy Tale. Prijzen worden daardoor dus hoger uitgekeerd.
Gratis spelen of voor geld gokken
Als je bij één van de door ons geteste casino's wilt gaan spelen kunnen we je meegeven dat je verschillende opties hebt. Om te beginnen kun je bijvoorbeeld gratis spelen met een virtueel tegoed zonder in te moeten loggen. Anoniem kun je zo als nieuwe gokker wennen aan het platform dat door een casino beschikbaar gesteld wordt, maar ook de spelregels van Frogs Fairy Tale eerst eens oefenen. Dit alles doe je zonder een risico om te verliezen, wat natuurlijk voortkomt uit het feit dat je geen eigen tegoed hoeft te gebruiken. Verder kunnen we je meegeven dat ook spelen voor geld een fluitje van een cent zal zijn. Allereerst moet je daarvoor wel een account aan hebben gemaakt bij een casino naar keuze. In dit account kun je geld toevoegen met verschillende stortingsmethodes, waar iDeal en Neteller een goed voorbeeld van zijn. Heb je voldoende geld beschikbaar in je account en wil je op Frogs Fairy Tale spelen om geld te kunnen winnen? Dan zal je met de plus en min knoppen in kunnen stellen welk bedrag er per draai gebruikt moet gaan worden. Hiermee kun je dan handmatig draaien, maar ook automatisch spelen voor een langere tijd als je dit zou willen. Aan mogelijkheden in ieder geval geen gebrek!