Power Stars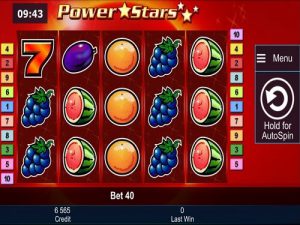 Er zijn op het internet veel Novomatic casino's te vinden waar spelen op slots zowel online als mobiel mogelijk is. Tussen het ruime aanbod aan mobiele gokkasten is ook Power Stars mobiel te spelen. Qua thema is dit een gokkast die vooral gericht is op fruitsymbolen en naar ons idee bovendien uitstekend is ingericht. Grafisch gezien zal alles helemaal knoppen zijn. Niet alleen qua symbolen, maar ook als het gaat om de knoppen die je mobiel moet gebruiken om een inzet te kunnen plaatsen. Hiermee is Power Stars mobiel eenvoudig beschikbaar voor zowel de spelers die nog nooit gegokt hebben op internet als voor spelers die al wel ervaring hebben. Bovendien zijn de geluiden die Novomatic heeft toegekend ook van een bijzondere functie, omdat deze de spanning direct naar een hoger niveau weten te tillen. Om bij een casino met Novomatic slots mobiel te kunnen gaan spelen moet je uiteraard wel eerst een smartphone of tablet erbij pakken die met internet verbonden is. We kunnen je meegeven dat Power Stars mobiel beschikbaar is zonder gebruik te moeten maken van apps. Je hoeft dus zowel een casino als de gokkast zelf niet te downloaden en kunt gelijk binnen het mobiele platform voor de eventuele winsten gaan spelen.
Werking Power Stars mobiel
Om je duidelijk te maken hoe je op Power Stars mobiel prijzen binnen kunt halen willen we je graag vertellen wat de werking van deze slot is. Allereerst moet je hiervoor weten dat er net als de online slot Power Stars in totaal 5 rollen aanwezig zijn om winnende combinaties mee te gaan vormen. Je kunt hierop per rol 3 symbolen vinden, wat maakt dat je maar liefst 15 symbolen per keer kunt gebruiken om mee op een winst uit te komen. Om een winnende combinatie tot uitbetaling over te kunnen laten gaan zal deze moeten bestaan uit meerdere soortgelijke symbolen. Combinaties kunnen gevormd worden op een totaal van 10 winlijnen en betalen uit van links naar rechts en ook van rechts naar links. Vanzelfsprekend geldt hierbij dat zowel het aantal symbolen als de inzet die gespeeld wordt bepalend is voor de uitbetalingen die gedaan kunnen worden. Wil je hierover vooraf of tussentijds meer te weten komen? Dan kunnen we je altijd even aanrader om een kijkje te nemen in de prijzentabel. Daarin kun je bij Power Stars mobiel namelijk alle mogelijke prijzen aflezen.
Extra functies mobiel
Daar je ook bij Power Stars mobiel extra functies kunt vinden is een uitleg hierover natuurlijk wel even op zijn plaats. De sterren die op de rollen gedraaid kunnen worden zijn daarbij de hoofdzaak, maar ook het gokspel kan zeker winstgevend gaan zijn. Om het je makkelijk te maken hebben we hieronder per functie al een korte uitleg gemaakt. Lees zo zelf wat je kunt verwachten als je later eventueel voor de winst zou willen gaan draaien door op een mobiel apparaat voor geld je inzetten te gaan plaatsen.
• Sterren als joker met extra spins
Met de gele sterren als joker symbolen wordt het winnen van prijzen bij het spelen op Power Stars mobiel nog veel spannender gemaakt. De sterren mogen namelijk worden gebruikt als ieder ander symbool en daarbij is niets uitgezonderd. Als je gaat spelen voor de prijzen kan je zo nog sneller winnende combinaties vormen. Belangrijk om daarbij voor ogen te houden is dat je de sterren alleen zal kunnen draaien op de rollen 2, 3 en 4. Wordt er een ster gedraaid? Dan wordt deze uitgespreid over een hele rol en daar vastgehouden. Hierna volgt een extra spin, waardoor je nogmaals een winst kunt behalen. Verder kunnen er daarbij ook extra jokers verschijnen en kunnen zelfs alle drie de middelste rollen gevuld worden met vervangende symbolen. Gebeurd dit? Dan heb je vrijwel gegarandeerd een hoge winst te pakken.
• Gokspel gebruiken
Eenmaal aan het spelen op de rollen van deze slot kun je ook een gokspel terugvinden. Alle prijzen die je op Power Stars mobiel weet te behalen kun je zo inzetten om ze te verhogen. Hoe dit mogelijk is? Je speelt met het geld dat je gewonnen hebt mee op een speelkaart uit een gewoon pak kaarten. Daarbij heb je de mogelijkheid om te gokken op kleur of soort. Iedere keer dat je de juist kleur hebt weten te raden zal er een verdubbeling van de ingezette prijs plaatsvinden. Omdat de soort moeilijker is om te raden zal je daarbij bij een juiste gok een verviervoudiging van je eerdere winst ontvangen. Zeker de moeite waard dus om het eens te proberen.
Speel virtueel of met geld
Heb jij al een Novomatic casino gekozen om mobiel te gaan gokken? Weet dan dat je ook op Power Stars mobiel niet alleen met eigen tegoed kunt spelen. Het is ook mogelijk deze slot eerst eens gratis te laden. Dit kan met een virtueel tegoed, waardoor je gelijk de mogelijkheid hebt om de regels te leren kennen zonder dat je kunt verliezen. Als je nog niet eerder bij een specifiek casino gespeeld hebt is dit bovendien ook zeer aantrekkelijk. Je kunt namelijk zo op je gemak wennen aan de speelomgeving die door een casino mobiel aangeboden wordt. Wil je voor geld gokken en dus winsten kunnen behalen? Dan is het wel noodzakelijk dat je inlogt op een account en dus bij een casino geregistreerd bent. Inzetten kunnen worden geplaatst door te bepalen met hoeveel munten je speelt. Hoewel je ook het aantal lijnen aan kunt passen voor je inzetten raden we dit wel af. Bij het gebruik van zoveel mogelijk lijnen heb je immers ook de hoogste kansen op winst.