Club 2000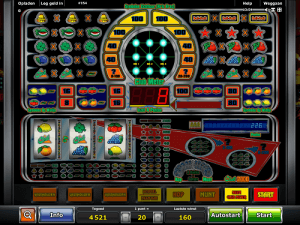 Veel mensen die al bekend zijn met gokkasten zijn dit vooral om het feit dat deze vaak ook fysiek gespeeld kunnen worden. Een goed voorbeeld hiervan is de Random Runner slot, maar wat dacht je bijvoorbeeld van Club 2000? Wanneer je bij een online casino op de Club 2000 slot gaat spelen heb je de mogelijkheid om op de klassieke manier voor de prijzen te gaan. Het leuke hierbij is dat de bekende start, hold en clubmeter knoppen bijvoorbeeld allemaal aanwezig zijn. Grafisch gezien is het dan ook net of je aan een echte gokkast bent gaan zitten terwijl je gewoon kunt spelen vanuit huis. De uitvoering van deze Club 2000 slot is dermate goed dat je bovendien ook met minder ervaring op een leuke manier voor de prijzen kunt gaan. Je kunt zelf instellen welke waarde per munt er gedraaid moet worden en zo dus binnen slechts een paar klikken bepalen welke inzet er gebruikt moet worden. Of winsten bij Novomatic mobiel en online ook eerlijk behaald kunnen worden? Nou en of! Als je op de Club 2000 voor de winst speelt doe je dit namelijk altijd in combinatie met een Random Number Generator. Deze zorgt ervoor dat elke draai de rollen op een willekeurig moment stoppen en er dus geen invloeden op uitslagen plaats kunnen vinden. Elke euro die je speelt wordt dus op een eerlijke manier gebruikt om winst binnen te kunnen gaan halen bij de casino's.
Club 2000 spelregels Novomatic
Zodra je voor de winst mee wilt spelen is het belangrijk om te weten wat er van je verwacht wordt. Om te beginnen stel je een inzet in door te bepalen hoeveel munten 1 draai waard is in het basisspel. Vervolgens klik je op de start knop, waarmee je een totaal van 3 rollen kunt laten draaien. Op het midden van deze rollen, met 9 posities, vind je een winlijn terug. Daarop moet je minimaal 2 soortgelijke symbolen vinden, maar het beste 3 symbolen van een soort. Uitzondering geldt voor het kersen symbool, omdat je hiermee al wint als er slechts 1 op de eerste rol op de winlijn komt te staan. In het basisspel kun je credits verzamelen die vervolgens naar de clubmeter gaan. Komen daar credits op te staan? Dan kun je met een hogere inzet van 4 munten gaan spelen om nog meer winsten in de wacht te slepen.
Eenmaal in het vervolgspel aangekomen moet je rekening houden met andere soorten prijzen. Je speelt immers ook met een hogere inzet. De prijzen die je in het vervolgspel vanaf de clubmeter kunt winnen komen tot stand zonder winlijn. Hierdoor zijn 2 of 3 soortgelijke symbolen al voldoende, maar kunnen er ook prijzen bij elkaar op worden geteld. Welke prijzen het vervolgspel van de Club 2000 slot allemaal uit kan keren? Dat vind je allemaal terug in de prijzentabel aan de bovenzijde van deze gokkast. Een tip is bovendien ook nog de Simply Wilder slot. Deze is ook afgeleid van een klassieke slot en kan op een moderne manier ook flinke prijzen uitkeren.
Meerdere winstkansen aanwezig
Wil je ook meerdere kansen op winst? Bij het spelen op slots bij een online casino heb je altijd verschillende mogelijkheden om je winsten sneller binnen te halen. Zo ook bij het spelen van de Club 2000 slot, waarvoor het Club symbool in het leveren geroepen is. Als je dit symbool tijdens het basisspel weet te draaien op de eerste 2 rollen of wellicht op de alle rollen krijg je hiervoor een mystery prijs uitgekeerd. Met het Club symbool op rol 1 en 2 is dit een prijs van minimaal 2 en maximaal 100 credits. Wordt het symbool op iedere rol gevonden? Dan levert dit minimaal 8 en maximaal 200 credits aan tegoed op.
Binnen het online casino assortiment zijn vrijwel alle Novomatic slots uitgerust met een gokspel. Bij Magic Princess bijvoorbeeld vind je dit terug op basis van speelkaarten. Echter is het bij Club 2000 net iets anders. Omdat je hier te maken krijgt met een klassieke gokkast komt het kop en munt spel naar voren. Wat je hiermee kunt bereiken? Een verdubbeling van je muntwinst zodra er een prijs behaald is met een winnende combinatie van symbolen. Je kunt hiervoor de kop en munt knoppen gebruiken die op de gokkast aanwezig zijn. Gok jij juist? Dan wordt er gelijk een verdubbeling van je tegoed gedaan. Net als bij andere online gokkasten kun je dit ook bij Club 2000 meerdere keren achter elkaar proberen. Let overigens wel op, want een foute gok laat je gehele prijs verloren gaan.
Gratis spelen of voor geld gokken
Het voordeel van online gokken zit hem in de bereikbaarheid van slots. Zo kun je de online slots spelen wanneer je maar wilt en waar je maar wilt dankzij de mobiele mogelijkheden. Ook Club 2000 is op meerdere manieren bereikbaar en zelfs gratis spelen op deze slotmachine is een optie. Als je gratis bij een casino Club 2000 wilt spelen zal je hiervoor eerst een casino moeten openen. Wanneer je dit gedaan hebt kun je deze slot gelijk opzoeken en met een virtueel tegoed gaan spelen. Overigens geldt dit voor alle slots van Novomatic en dus ook als je op de slot Jewels of the Sea zou willen oefenen. Bij het gratis spel krijg je te maken met alle gelijkwaardige spelregels, waardoor je dus eerst kunt zien hoe alles in zijn werk gaat. Bovendien leer je zo ook gelijk de omgeving van een casino kennen als je er nog geen account had. Wil je wel met geld gokken en winsten behalen? Dan heb je wel een account nodig en kun je met de plus en min knoppen bepalen welke inzet er bij een draai gebruikt wordt.