Forest Guardian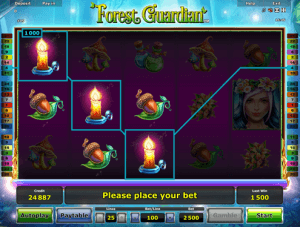 Online slotmachines doen je veelal versteld staan van de mogelijkheden die er zijn om te winnen. Bovendien wordt er altijd gebruik gemaakt van interessante thema's en dat is ook het geval als je gaat gokken op de Forest Guardian slot. Zodra je voor deze slotmachine kiest kom je terecht in een groot bos met allerlei dieren en een tovenares die met haar drankjes goede bedoelingen heeft. Om dit thema goed vorm te geven is natuurlijk niet alleen maar de achtergrond geheel in stijl ontwikkeld, maar kun je ook nog eens rekenen op een zeer bijpassende serie van themasymbolen. Als je nog niet eerder op de Forest Guardian slot gespeeld hebt moet je weten dat je hier net als bij de Leonardo's Code slot kunt rekenen op een duidelijk speelomgeving. Met de knoppen die je onder de rollen terug kunt vinden kun je binnen letterlijk een paar klikken je inzet bepalen en de rollen rond laten gaan. Verder is het natuurlijk zo dat je bij het spelen op Novomatic slots als deze ook nog eens te maken zal krijgen met een Random Number Generator. Wat dit betekent voor het spelen van de Forest Guardian slot? Dat jouw kansen op het behalen van een winst gegarandeerd op een eerlijke manier tot stand zullen komen.
Forest Guardian spelregels Novomatic
Spelregels zijn er bij alle slots en die zijn bedoeld om je een basis te geven voor het winnen van prijzen. Hoewel de spelregels op de Forest Guardian slot en ook op de Queen of Hearts slot automatisch uit worden gevoerd kan kennis ervan geen kwaad. Als je op de 5 rollen van de Forest Guardian slot gaat gokken voor het winnen van prijzen zal je te maken krijgen met 15 symbolen per draai. Op elke rol vind je namelijk evenredig een totaal van 3 symbolen terug om prijzen mee te gaan winnen. Als je voor de winst gaat heb je een totaal van 25 winlijnen ter beschikking. Deze zal je moeten zien te vullen met zoveel mogelijk combinaties van soortgelijke symbolen van links naar rechts. Daarbij kan het zijn dat je zomaar één winlijn weet te vullen, maar ook het vullen van meerdere winlijnen tegelijk is mogelijk bij de Forest Guardian slot. Alle prijzen die bij het spelen op slots behaald kunnen worden vind je vanzelfsprekend terug door middel van een prijzentabel. Houd er daarbij wel rekening mee dat niet alleen het aantal symbolen van een soort bepaald welke winst je uitgekeerd krijgt. Ook de inzet die gespeeld wordt op dat moment is namelijk van belang.
Meerdere winstkansen aanwezig
Om sneller op een winst uit te kunnen komen heeft Novomatic bij vrijwel alle online slots 1 of meerdere extra functies toegevoegd. Tijdens het spelen voor de winst op de Forest Guardian slot kun je bijvoorbeeld rekenen op een heel bijzondere joker. Als het joker symbool verschijnt moet je weten dat je hiermee alle andere symbolen de slotmachine kunt vervangen. Je kansen op het behalen van een winst zullen daarmee flink stijgen. Zo kun je bijvoorbeeld met het joker symbool tussen andere soortgelijke symbolen een combinatie alsnog completeren en rekenen op een snellere uitbetaling. Verder mag een joker ook een winnende combinatie verlengen, wat zal zorgen voor een hogere winst die aan je saldo toegevoegd wordt. Prettig is dat jokers ook meerdere lijnen tegelijk kunnen completeren, omdat de jokers volledige rollen kunnen bedekken.
Als de jokers op de rollen van de Forest Guardian slot actief zijn kun je als extra een soort van vlinder symbool zien verschijnen. Wanneer je deze geheel willekeurig toegekend krijgt zal je als extra met een totaal van 5 free spins mogen gaan spelen. Dit houdt in dat er gratis prijzen gevormd kunnen gaan worden zonder dat er geld van je saldo in zal worden gehouden. Belangrijk om voor ogen te houden is wel dat je tijdens de free spins de prijzen zal ontvangen op basis van de inzet die je als laatste op Forest Guardian gespeeld hebt. Niet erg, want ook zo kunnen de winsten bij deze online speelautomaat flink op gaan lopen.
Gratis spelen of voor geld gokken
Voordat je het er eventueel op gaat wagen bij een online casino willen we je nog wat meegeven over de mogelijkheden tot spelen. Je bent bij een Novomatic casino namelijk helemaal niet verplicht om gelijk met eigen geld te gaan spelen op slots. Ook gratis spelen is een mogelijkheid en vooral handig als je nog niet met de Forest Guardian slot bekend bent of wanneer je nog helemaal niet eerder bij een online casino gespeeld hebt. Ga je eventueel gratis Forest Guardian spelen? Dan zal je zien dat dit mogelijk is zonder dat je een account hoeft te gebruiken. Het enige wat je hoeft te doen is de website van het casino openen en je kunt gelijk de slots openen voor het spelen met een virtueel tegoed. Eenmaal van start gegaan met een virtueel saldo kun je zo de regels en de spelbediening uitstekend leren kennen zonder dat je eigen geld kunt verliezen. Als je wel voor geld wilt gaan spelen verloopt het vanzelfsprekend allemaal net iets anders. In dat geval zal je namelijk wel een account nodig hebben, omdat je daarin met één van de betaalmethodes geld toe moet voegen om van een saldo gebruik te kunnen maken. Heb je een account en ben je ingelogd? Dan kun je eenvoudig op de Forest Guardian slot je inzet plaatsen. Het enige wat je hoeft te doen is in te stellen welk aantal munten er gespeeld moet worden, waarna je de rollen direct rond kunt laten gaan om een prijs binnen te gaan halen.