Haul of Hades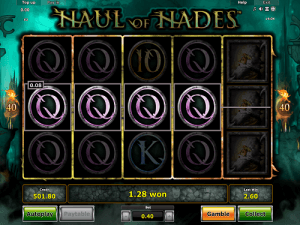 Griekse Goden die in een oorlog omgeving de strijd met elkaar aangaan? Dat vind je terug als thema als je Haul of Hades gaat spelen bij een online casino. Op deze Novomatic gokkast heb je verschillende kansen om zowel hoge als lage winsten te behalen en is spelen met geld altijd een aanrader. Voor wat betreft het uiterlijk van dit spel vinden wij dat dit goed doorkomt op alle vlakken. Zo zijn de symbolen geheel in stijl, maar ook de complete achtergrond van het spel. Verder geldt dat je bij het spelen voor de winst op de Haul of Hades met slechts een plus en min knop je inzetten kunt plaatsen. Heb je wat minder ervaring met gokken of helemaal nog niet op dit spel gespeeld? Dan kun je dus met een paar drukken bepalen welke inzet je wilt gebruiken en vervolgens de rollen rond laten gaan. Goed om te weten ook is dat je deze speelautomaat bij alle Novomatic casino's die wij hebben getest veilig zal kunnen spelen. Bij Haul of Hades wordt er immers altijd gespeeld met een Random Number Generator, wat ook geldt als je op de gokkast Random Runner 15 zou gaan spelen. Dankzij de Random Number Generator komen symbolen iedere draai willekeurig op de rollen te staan en kan het makkelijk zijn dat er meerdere combinaties tot een uitbetaling over gaan. Geen enkel casino kan dus jouw winstkansen beïnvloeden.
Haul of Hades spelregels Novomatic
Als je graag wilt gokken voor het winnen van geldprijzen moet je op alle slots spelen met een eigen tegoed. Dit geldt bij Haul of Hades en natuurlijk ook als je een andere slots kiest zoals bijvoorbeeld Wild Adventure. Wanneer je voor de prijzen gaat gokken op deze Haul of Hades slot heb je gelijk de mogelijkheid om met 5 rollen te gaan draaien. Hierop vind je per rol evenredig 3 symbolen terug, wat maakt dat er een totaal van 15 symbolen gebruikt kan worden om op een winst uit te komen. Als je bij het spelen van de Haul of Hades slot wilt winnen moet je meerdere symbolen van een soort in een combinatie zien te draaien. Het mooie daarbij is dat alle Goden als opeengestapelde symbolen gedraaid kunnen worden en daardoor hoge winsten nog dichterbij zullen komen. Alle prijzen die je tijdens het gokken kunt winnen zullen daarbij vanzelfsprekend geheel afhankelijk zijn van het aantal symbolen wat je van een soort weet te vinden op één van de maar liefst 40 winlijnen. Bovendien worden deze alleen van links naar rechts uitgekeerd en is je inzet definitief bepalend voor de winsten die gevormd kunnen worden. Wil je ook weten welke prijzen er op deze slot allemaal uit kunnen worden gekeerd? Dan kun je daarvoor altijd terecht in de prijzentabel die aanwezig is.
Meerdere winstkansen aanwezig
Zodra je gaat spelen op slots als deze zijn je kansen op winst altijd zeer ruim. Dit komt door het gebruik van extra functies. Deze zien we vaker terug bij de slots van Novomatic en bijvoorbeeld ook wanneer je zou gaan spelen op de Spinning Fruits slot. Voor wat betreft Haul of Hades geldt dat het spellogo ook als een symbool gedraaid kan worden. Vanaf 2 symbolen op een lijn kun je hier eigen prijzen mee winnen, maar anderzijds kan deze ook gebruikt worden als een joker. De joker functie zorgt ervoor dat het logo in staat is om ieder andere symbool te vervangen, met uitzondering van de free spins symbolen die je kunt draaien. Deze heb je immers nodig om het tot een sessie met gratis spins te schoppen, waarover we je hieronder meer uitleg zullen geven.
Wanneer je 3 rollen vol met opeenstapelde free spins symbolen hebt weten te draaien kan de bonus van start gaan. Je krijgt dan eerst een draaiend rad te zien waar een opgestapeld symbool op gekozen wordt. Dit is één van de Goden, die dan standaard vaker op elkaar gestapeld aanwezig zal gaan zijn. Hades, Aphrodite en Zeus zijn hier goede voorbeelden van. Als je vervolgens met een totaal van 7 free spins gaat draaien worden je kansen op winst alleen maar hoger. Bovendien worden alle winsten gevormd op basis van de laatst gespeelde inzet zonder dat dit geld kost van je eigen tegoed. Draai je tijdens de free spins opnieuw 3 rollen vol met free spin symbolen? Dan wordt het aantal gratis spins uiteraard direct verhoogd om door te kunnen spelen.
Gratis spelen of voor geld gokken
Je wilt als je bij een casino gaat gokken uiteraard zo snel mogelijke hoge winsten gaan vormen. Ondanks dat willen we toch ook nog even meegeven dat gratis spelen op de Haul of Hades slot ook een mogelijkheid is. Hiervoor hoef je alleen maar een casino te kiezen van onze site, waarna je gelijk zonder in te loggen op een anonieme basis toegang kunt krijgen tot het spelaanbod. Daar open je deze Haul of Hades slot en kun je met een virtueel tegoed direct de rollen laten draaien om bekend te raken met de spelregels. Aanvullend voordeel is dat je zo ook de speelomgeving van een casino goed zal kunnen leren kennen. Wil je wel met een eigen tegoed spelen met een account? Zorg er dan voor dat je met één van de vele stortingsopties geld in je account beschikbaar hebt gesteld en stel het muntentotaal in dat gespeeld moet worden. Hierna kun je de rollen rond laten gaan en de eerste winsten van deze speelautomaat in de wacht gaan slepen.