Magic 81 Lines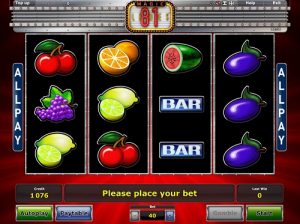 Als je al vaker bij een online casino gespeeld hebt weet je ongetwijfeld dat veel slots beschikbaar zijn om een inzet op te plaatsen. Ga je slots spelen als een nieuwe gokker? Weet dan dat elk spel een ander thema heeft en het zo altijd interessant zal blijven om voor de winst mee te spelen bij een casino. Het leuke van de Magic 81 Lines slot is bijvoorbeeld dat je er prijzen op zal kunnen behalen met allerlei bekende fruitsymbolen. Dit zijn bijvoorbeeld de kers, pruim, citroen, druif en sinaasappel. Aanvullend zijn er ook een BAR en 7 symbool beschikbaar, waardoor winsten in hoogte nog verder toe kunnen nemen. Afhankelijk van de inzet die je speelt kun je op Magic 81 Lines gelijkwaardig aan Magic 27 zowel hoge als lage prijzen gaan winnen. Belangrijk om te weten is bovendien dat winsten op een eerlijke manier tot stand komen. De Novomatic casino's die wij hebben getest kunnen niet knoeien met uitslagen, waardoor je elke draai opnieuw de mogelijkheid hebt om een mooie winst te vormen. Eenmaal het spel geopend zie je dat de speelomgeving eenvoudig is ingericht. Hierdoor komen de symbolen goed naar voren en ook de knoppen die je kunt gebruiken om een inzet te plaatsen. Spelers die nog niet eerder op Magic 81 Lines gespeeld hebben kunnen zo heel eenvoudig een inzet instellen met de plus en min knop. Heb je dit gedaan? Dan kun je met de rollen gaan draaien en zien of er ook voor jou mooie winsten te behalen zijn hier.
Magic 81 Lines spelregels Novomatic
Wanneer je op een Novomatic slot gaat spelen bij een casino heb je altijd een basis qua spelregels waar je rekening mee moet houden. Niet alleen op Magic 81 Lines, maar ook voor de spelers die op de Mystery Star slot gokken. Als je voor de winst gaat bij de Magic 81 Lines slot krijg je uniek te maken met een totaal van 4 rollen en heb je op iedere rol 3 symbolen beschikbaar om combinaties mee te gaan vormen. Dit levert een totaalplaatje op van 12 symbolen per draai, waarmee je winst op maar liefst 81 manieren kunt behalen. Het mooie van de Magic 81 Lines slot is vooral het feit dat je geen specifieke lijnen hoeft te gebruiken, maar dat winsten al behaald worden als je van links naar rechts op aaneengesloten rollen 3 of 4 symbolen van een soort weet te vinden. De prijzen die daarmee gewonnen kunnen worden zijn wel wisselend en hangen uiteraard net als bij de Novomatic slots mobiel ook gewoon af van de inzetten die je speelt. Een aanrader is dan ook om altijd even een keer in de prijzentabel te kijken zodat je weet welke prijzen er met de symbolen behaald kunnen worden.
Meerdere winstkansen aanwezig
Dat je bij een casino voldoende kansen hebt op het behalen van een winst blijkt doorgaans wel uit het feit dat er ook extra winstkansen aanwezig zijn. Spelen op slots bij een online casino is daardoor veel leuker en dat geldt ook voor spelers die op Magic 81 Lines spelen. Voor wat betreft de extra winstkansen kunnen we je melden dat je bij dit spel het log kunt draaien als een joker symbool. Dit betekent dat je deze voor ieder ander symbool kunt gebruiken en dat de combinaties van 3 of 4 symbolen sneller compleet zullen worden gemaakt. Ondanks het feit dat het Magic 81 Lines logo geen eigen prijzen op kan leveren is deze nog belangrijker dankzij de vermenigvuldigers die ervoor gelden. Prijzen die met een joker behaald worden zullen immers altijd met een vermenigvuldiger van 2x uit worden betaald. Win je met 2 jokers in een combinatie dan is dit een vermenigvuldiger van 4x en bij een winst met 3 jokers is er een vermenigvuldiger van 8x actief voor de prijs die behaald wordt.
Wanneer er een winnende combinatie op de rollen van Magic 81 Lines verschijnt heb je als extra de mogelijkheid om het gokspel op te starten. Je kunt dan gaan gokken op de kleur van een speelkaart om een verdubbeling van je gewonnen prijs toegekend te krijgen. Zodra je de kleur van de speelkaart juist geraden hebt kun je twee dingen doen. Je neemt de prijs en gaat verder spelen in het hoofdspel of je waagt het er nog een keer op om je winst nog eens te verdubbelen. Raadzaam is wel om niet te ver te gaan, want zodra je eenmaal verliest is de gehele prijs die je origineel gewonnen had ook verloren.
Gratis spelen of voor geld gokken
Op de website van een online casino gokken voor het winnen van echte geldprijzen is natuurlijk alleen mogelijk als je gaat spelen voor geld. Slots spelen voor geld kan met een account, wat dus betekent dat je eerst ingelogd zal moeten zijn. Zodra je ingelogd bent bij een casino kun je met de beschikbare stortingsopties een saldo toevoegen om vanaf daar een inzet te plaatsen. Inzetten kunnen bij de Magic 81 Lines geplaatst worden door slechts in te stellen welk aantal munten je wilt spelen, waarna je de rollen direct handmatig of automatisch rond kunt laten gaan. Wil je Magic 81 Lines spelen met een gratis tegoed en dus eerst oefenen voordat je het er met geld op gaat wagen? Dat kan ook! Hiervoor hoef je niet in te loggen op een account, maar kun je na het openen van het spel gelijk een onbeperkt oefentegoed gebruiken. Het voordeel is uiteraard dat je geen geld kunt verliezen en dat je via dit tegoed ook nog eens eerst het gokplatform van een casino zal kunnen leren kennen.