Rainbow Reels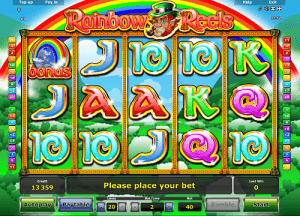 Meestal als een videoslot gaat over de regenboog komt daarbij ook een Iers thema kijken. Je vindt immers een Leprechaun aan het einde van de regenboog, waar ook de pot met goud volgens het verhaal moet staan. Als je op de Rainbow Reels slot zou gaan spelen kun je er ook op rekenen dat deze Ierse kabouter binnen het spel als symbool opgenomen is. Bovendien zijn ook de andere symbolen geheel in stijl en krijg je op deze slotmachine ook een geheel bijpassende achtergrond te zien. Novomatic slots als deze Rainbow Reels slot en Captain Venture staan bovendien ook altijd bekend om de geluiden die toe worden gepast als er met de rollen gedraaid wordt. Hiermee heb je de zekerheid dat gokken voor de winst uiterst spannend zal zijn. Heb je nog geen ervaring met online gokken of ben je simpelweg nog niet bekend met deze Rainbow Reels slot? Dan is het fijn om vooraf alvast te weten dat je hier slechts een paar knoppen nodig zal hebben om op een inzet uit te gaan komen. Met de plus en min knoppen bepaal je zelf het aantal munten wat gespeeld moet worden. Bovendien kun je zelfs handmatig draaien als je zou willen met de start knop, maar ook automatisch wat vooral handig is als je met een vast bedrag wil spelen voor de winst.
Rainbow Reels spelregels Novomatic
Het winnen van geldprijzen is natuurlijk altijd leuk, maar wat je daarvoor nou precies doen als je op een bepaalde slot gaat spelen? Wanneer je voor de Rainbow Reels slot of bijvoorbeeld de Helena slot kiest zie je dat er met 5 rollen gespeeld wordt voor het behalen van winsten. Dit is volgens het standaard videoslot principe, waardoor spelen voor het winnen van prijzen direct ook al makkelijker wordt. Als je op de 5 rollen van de Rainbow Reels slot gaat draaien zal je per rol een totaal van 3 symbolen terug kunnen gaan vinden om combinaties mee te vormen. In totaal is het dus mogelijk om met een maximum van 15 symbolen tegelijkertijd op een prijs uit te gaan komen. Hierbij bepaal je zelf of je alle 20 winlijnen gebruikt of dat je met minder lijnen voor de winst gaat spelen. Voor alle combinaties van soortgelijke symbolen geldt natuurlijk dat het aantal symbolen daarbinnen bepalend is voor de winst samen met de inzet die gespeeld wordt. Aangezien je op deze manier verschillende winsten binnen zal kunnen halen is het fijn om te weten dat je alle eventuele uitbetalingen bij Rainbow Reels terug kunt zien in de prijzentabel. Zo kun je jezelf geheel op de hoogte stellen van de prijzen die kunnen worden gevormd op deze speelautomaat.
Meerdere winstkansen aanwezig
Zodra je op de rollen van een slot gaat gokken is het uiteraard de bedoeling om de hoogst mogelijke winstkansen te hebben. Bij het spelen op slots bij een online casino heb je hoge winstkansen, omdat er ook altijd gebruik gemaakt wordt van extra functies. Vanzelfsprekend niet alleen maar op deze Rainbow Reels slot, maar ook bij het spelen van Mermaids Pearl. In dit geval willen we je alvast meegeven dat de Ierse kabouter gebruikt zal worden als een joker symbool. Met dit joker symbool is het mogelijk om de reguliere spelsymbolen te vervangen. Potten goud, waterputten en bonussymbolen kunnen namelijk niet vervangen worden. Deze hebben allemaal al een eigen functie. Zodra je een joker draait tussen symbolen van eenzelfde soort of aan het einde van een combinatie bij Rainbow Reels zal deze je van dienst zijn. Anderzijds kun je met dit symbool zelf ook prijzen winnen als je er minimaal 2 van op een winlijn laat verschijnen.
Er zijn bij het spelen van de Rainbow Reels slot maar liefst 3 bonussymbolen beschikbaar. Zoals we al aan hebben gegeven kunnen deze niet door de jokers vervangen worden. Draai je drie gouden potten op de rollen of vind je 3 waterputten op willekeurige posities terug? Dan krijg je een zogenoemde kies en win bonus. Je mag dan één van de symbolen aanklikken om je bonusprijs te onthullen. Worden er echter 3 bonussymbolen op de rollen gedraaid? Dan krijg je allemaal klavertjes op de regenboog te zien. Deze mag je kiezen om vermenigvuldigers voor je inzet bij elkaar te verzamelen. De bonus stopt als je een collect symbool vindt of als je de maximale winst van 500x je inzet tijdens dit bonusspel hebt weten te bereiken.
Gratis spelen of voor geld gokken
Als je je weg naar een online casino weet te vinden is het prettig te weten dat je daarbij geen verplichtingen zal hebben om een account te hebben. Bij ieder Novomatic casino kun je op Rainbow Reels spelen met een virtueel tegoed. Wil je ook gratis spelen? Dan hoef je als je op de site van een casino bent aanbeland alleen maar het spel te openen en je kunt direct van start. Zo kun je eerst de regels oefenen en ook wennen aan de speelomgeving die geboden wordt. Daarnaast geldt bovendien dat je als gokker onbeperkt met het gratis saldo zal kunnen oefenen en dat er geen enkel risico zal zijn om eigen geld te verliezen. Wil je wel met geld gokken op de Rainbow Reels slot? Dan is het uiteraard wel van belang om in te kunnen loggen op een account, omdat je alleen zo met verschillende stortingsopties een saldo kunt beheren. Inzetten kunnen bij deze slot geplaatst worden door in te stellen hoeveel van de maximaal 20 winlijnen er actief moeten zijn en met hoeveel munten je per lijn wilt gaan draaien. Hierna laat je de rollen rondgaan en kunnen eventuele winsten direct aan je saldo toe worden gevoegd.