Summer Queen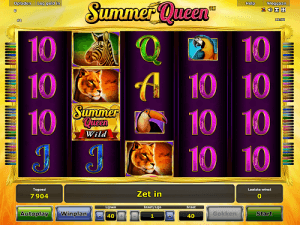 Het uiterlijk van een online slot is gelijk bepalend voor de spanning die je eraan kunt beleven. Met het uiterlijk wordt immers het thema weergegeven en dat is ook het geval als je op de Simmer Queen slot terecht komt. Bij het spelen van de Summer Queen slot kun je rekenen op een zomers thema met allerlei dieren die leven in warme landen. Op de rollen kun je bijvoorbeeld symbolen gebruiken in de vorm van leeuwen, zebra's en papegaaien om mee te winnen. Hoewel het grafische uiterlijk deze slot vooral weet te maken mogen we bovendien ook de bijpassende geluiden niet vergeten te vermelden. Deze zorgen namelijk eveneens voor voldoende spanning als je voor de winst mee gaat spelen op slots als Summer Queen. Leuk om te weten is bovendien dat dit niet de enige slot is die je van deze serie online kunt vinden. Binnen het Novomatic assortiment kun je immers ook nog de Winter Queen slot en de Spring Queen slot spelen. Al deze slots hebben de gemeenschappelijke overeenkomst dat je er als speler eenvoudig een inzet op zal kunnen plaatsen. Met slechts een paar knoppen onder de rollen kun je al bepalen hoeveel munten er per draai actief moeten zijn om een winst mee te kunnen gaan vormen. Alle winsten komen daarbij eerlijk tot stand. Bij Summer Queen wordt er immers gebruik gemaakt van de Random Number Generator. Deze zorgt voor willekeurige uitslagen die door de online casino's niet beïnvloed kunnen worden.
Summer Queen spelregels Novomatic
Dankzij het mooie uiterlijk van deze slot is het niet alleen makkelijk om een inzet te plaatsen, maar ook nog eens vrij eenvoudig om voor de winst te kunnen gaan draaien. Op de Summer Queen slot vind je namelijk gelijkwaardig aan de Diamond 7 slot een totaal van 5 rollen terug om mee te winnen. Met deze 5 rollen krijg je elke draai 20 symbolen beschikbaar, die evenredig verdeeld zijn in een totaal van 4 symbolen per rol. Om met de symbolen tot een winst te kunnen gaan komen zal je als gokker het doel hebben om combinaties te vormen van soortgelijke symbolen. Hiervoor kun je gebruik maken van maximaal 40 winlijnen, die je naar keuze in kunt stellen. Let wel dat het aantal lijnen wat je gebruikt ook invloed heeft op je winstkansen. Het beste kun je dan ook met alle lijnen voor de winst gaan draaien. Eenmaal een combinatie van soortgelijke symbolen op een lijn van links naar rechts gedraaid bij Summer Queen zal je een uitbetaling toegekend krijgen. Hoe hoog deze uitbetaling is hangt geheel af van het aantal symbolen dat gevonden wordt en van de inzet die je op dat moment speelt. Je vindt alle mogelijke uitbetalingen van deze slot daarvoor terug in de aanwezige prijzentabel.
Meerdere winstkansen aanwezig
Wanneer je kiest voor het spelen van de Summer Queen slot heb je als gokker de mogelijkheid om vrij snel op een winst uit te komen. Dit komt door het feit dat er bij deze videoslot ook extra functies gebruikt worden om prijzen mee binnen te halen. Als je een winst wilt gaan vormen kan de joker je daar bijvoorbeeld goed bij van dienst zijn. Het joker symbool wordt in dit geval gevormd door het logo van het spel en is beschikbaar op de rollen 2, 3 en 4. Hiermee kun je alle andere symbolen van de Summer Queen slot vervangen, met uitzondering van de Scatter parels die je kunt draaien op de rollen. Deze hebben namelijk al een eigen functie toebedeeld gekregen van Novomatic. Eenmaal een joker gedraaid tussen soortgelijke symbolen zal je als gokker een winst alsnog compleet weten te maken voor uitbetaling. Draai je een joker aan het einde van een winnende combinatie van Summer Queen? Dan wordt hiervoor een hogere winst aan je saldo toegevoegd.
Het Scatter symbool van de Summer Queen slot wordt zoals gezegd gevormd door de parel. Als je hier 3 of meer symbolen van weet te vinden kun je er een uitbetaling voor krijgen en dit alles zonder dat je de verplichting hebt om een winlijn te volgen. Ook met dit symbool liggen je kansen op het behalen van een prijs dus hoger. Overigens is dit niet alles, want bij het draaien van een prijs met de Scatter parels zal je namelijk ook voorzien worden van 10 free spins. Je kunt dan de rollen gratis rond laten gaan en prijzen zonder inzet te moeten plaatsen aan je tegoed toe laten voegen. Als extra wordt er daarbij een uitbreidend symbool gekozen wat veel vaker zal verschijnen en waarmee de kansen op een winst nog veel hoger uit zullen gaan vallen tijdens de gratis spins.
Gratis spelen of voor geld gokken
Om bij een casino een winst te kunnen gaan behalen is het noodzakelijk dat je met een eigen account van start gaat. Je moet dus in kunnen loggen en hebt daarbij bovendien de verplichting om gebruik te maken van eigen geld. Geld toevoegen aan een account is heel eenvoudig. Hiervoor vind je bij ieder Novomatic casino namelijk verschillende stortingsopties terug die een transactie direct zullen verwerken. Eenmaal geld beschikbaar zal je het aantal lijnen wat je wilt gebruiken in moeten stellen en hoeveel munten er per draai gespeeld moeten worden. Hierna kun je gelijk de rollen rond laten gaan om prijzen binnen te gaan halen op de Summer Queen slot. Wil je liever Summer Queen spelen om te oefenen en dus met een gratis tegoed? Dat is ook nog een mogelijkheid die geboden wordt. Je kunt immers gratis spelen zonder dat je hier een account voor nodig hebt en dus meteen met een virtueel tegoed. Wil je later alsnog voor eigen geld gaan gokken om de prijzen binnen te halen op Summer Queen? Dan is overschakelen naar een echt account alsnog zo geregeld.