Woonsters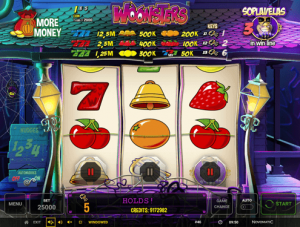 Besluit je om een gokje te gaan wagen bij het online casino? Dan kun je al snel genieten van een ruim aanbod van Novomatic slots. Als je graag spellen speelt met een tikkeltje fantasie en een licht griezelig thema, is de Woonsters slot een echte aanrader. Je wordt door het fantastische  Woonsters slot namelijk meegenomen naar een spookhuis en hierdoor moet je al snel denken aan Halloween of andere geestige feestjes. Als je de Woonsters slot gaat spelen zal je op de achtergrond het spookhuis te zien krijgen. Je ziet een dak met oude dakpannen, dakgoten met spinnenwebben en grote zwarte spinnen, oude lantaarnlichtjes met kapotte ruitjes en nog veel meer. De trap naar het huis toe is van hout en de planken liggen ongelijk. Het huis is oud, donker en heeft een griezelige sfeer gekregen.
Je speelt de Woonsters slot met een totaal van 3 rollen. Per rol kun je 3 symbolen draaien en daardoor speel je de Woonsters slot met 9 symbolen per draai. Als je de rollen van de Woonsters slot laat draaien kun je mooie symbolen zien verschijnen. Je kunt symbolen draaien als blauwe zevens, rode zevens en groene zevens. Er zijn ook gouden bellen te vinden, aardbeien, citroenen, sinaasappels en kersen. Op de rollen kun je ook oude sleutels draaien. Daarnaast kom je ook griezelige pompoenen tegen, vleermuizen en griezelige meiden met paars haar. De symbolen passen goed bij de Woonsters slot en ze kunnen ook nog eens mooie prijzen opleveren, net als dat ook kan bij de Frogs Fairy Tale slot.
Woonsters spelregels Novomatic
Zodra je de rollen van de Woonsters slot laat draaien wil je uiteraard maar al te graag een winst behalen. Je moet dan wel goed weten op welke manier je een winst kunt behalen met de Woonsters slot. Met deze slot kun je een winst behalen door op de rollen van het spel combinaties te vormen. Je moet altijd minimaal 3 symbolen van dezelfde soort in een combinatie draaien. Dit moet altijd vanaf de meest linkse rol naar rechts. Het is belangrijk dat een combinatie altijd op aaneengesloten rollen gedraaid wordt. Je hebt alle rollen van de Woonsters slot nodig om een complete combinatie te kunnen draaien. Voor elke complete combinatie die je draait kun je een mooie winst uit laten betalen.
Ben je benieuwd welke winsten je kunt behalen met de Woonsters slot? Open dan de prijzentabel van dit spel. Je kunt dan ontdekken welke prijzen je precies kunt behalen en wat je als speler kunt verwachten. Hoe hoger de inzet die je plaatst als speler, hoe hoger de prijzen die je kunt winnen. Spelen op slots kan altijd met een inzet naar keuze. Open gerust de prijzentabel als je een inzet geplaatst hebt, zodat je precies weet wat de symbolen voor jou te bieden hebben.
Meerdere winstkansen aanwezig
Dat je mooie winsten kunt behalen met de Woonsters slot maakt dit spel al snel spannend om te spelen. Toch is dat nog niet alles wat de Woonsters slot te bieden heeft. Je kunt dit spel namelijk ook gaan spelen met extra functies. Bij de Woonsters slot kom je allemaal kleine features tegen. Zo kun je onder andere met de sleutels de 'Game with Keys' activeren. Je kunt dan alleen symbolen draaien met een hoge waarde. Er is ook een klein bonusspel te vinden waarbij je een aantal kaarsen te zien krijgt. Je mag één van de kaarsen aanklikken en je krijgt dan de prijs die deze kaars te bieden heeft. Je kunt bij de Woonsters slot ook een Double Your Value spel gaan spelen. De winst die je hebt behaald kan dan verdubbeld worden, of je kunt extra sleutels winnen.
Gratis spelen of voor geld gokken
Voel jezelf nooit verplicht om de Woonsters slot te gaan spelen voor geld. Het online casino biedt jou namelijk ook altijd de mogelijkheid aan om gratis te spelen op de Woonsters slot, net als dat ook kan op de Garden of Riches slot. Je kunt gratis spelen met een demo tegoed. Kies je voor gratis spelen? Dan kun je de spelregels van de Woonsters slot goed leren kennen. Je kunt de manier van spelen onder de knie krijgen en zo ontdek je al snel hoe het spel gespeeld moet worden. Gratis spelen is voor jou als speler een goede voorbereiding. Dat maakt het al snel de moeite waard om eerst gratis te oefenen.
Heb je een aantal keer geoefend op de Woonsters slot? Dan kun je daarna voor geld gaan spelen als je dat wilt. Als je voor geld wilt gaan spelen op de Woonsters slot, zal je over een eigen account en speeltegoed moeten beschikken. Het aanmaken van een account is niet moeilijk en het is ook heel eenvoudig om geld over te maken. Met het geld wat je overmaakt kun je inzetten plaatsen op de Woonsters slot. Als je voor geld gaat spelen op de Woonsters slot zal je ook een casinobonus kunnen gebruiken. Net als bij de Gorgeous Goddess slot kun je ook bij de Woonsters slot zelf bepalen met welke casinobonus je gaat spelen.